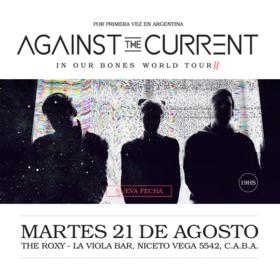 Against The Current en Argentina
Against The Current se presenta por primera vez en Argentina el próximo 21 de agosto. La cita tendrá como lugar de encuentro el escenario de The Roxy La Viola Bar.
Against The Current reprogramó la fecha que tenía prevista en Argentina en octubre y la adelantó al mes de agosto.
Desde Nueva York, conformada por Chrissy Costanza, Dan Gow y el baterista Will Ferri. Against The Current viene a presentar su primer disco de estudio llamado In Our Bones, que fue publicado en el 2016 y se volvió una revelación en a escena del pop rock.
Entradas anticipadas por el sistema All Access desde $900.