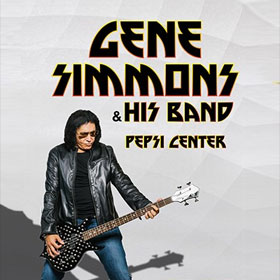 Gene Simmons and His Band en Pepsi Center WTC
Gene Simmons and His Band se presentan el lunes 30 de octubre en Pepsi Center WTC, México, DF.
Cofundador de la legendaria banda de rock estadounidense KISS, Gene Simmons, también conocido como "The Demon", aterrizará en la Ciudad de México junto a su banda para dar una verdadera cátedra de rock and roll. Con una brillante y destacada carrera dentro de la escena del rock mundial, Gene Simmons, con más de 45 años de rocanrolear, y de viajar con la banda de sus amores, KISS, donde toca el bajo, canta, escupe fuego, vuela por los aires, usa armaduras de 18 kilos y con quien ha vendido más de 100 millones de discos, ahora llegará a nuestra ciudad en su faceta solista, donde dejará sentir sus joyas sonoras Radioactive, Living in sing y See you tonigth. Además, de entonar grandes clásicos como Rock and roll all nite, Detroit rock city y I was made for loving you, entre otros.
Boletos disponibles en Ticketmaster.