miércoles, 2 mayo, 2018
Uniclub
Guardia Vieja 3360,
Buenos Aires,
Argentina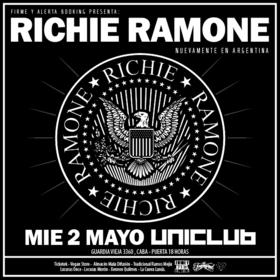 Richie Ramone en Buenos Aires
Richie Ramone se presenta en Buenos Aires el próximo miércoles 2 de mayo en el Uniclub.
Richie Ramone es el reconocido baterista de la banda estadounidense Ramones, y además por ser el único baterista que compuso en su totalidad algunas canciones del grupo ("Humankind" de Too Tough to Die, "Somebody Put Something in My Drink" de Animal Boy, y "I Know Better Now" y "I'm Not Jesus" de Halfway to Sanity).
Las entradas anticipadas se consiguen por el sistema Ticketek desde $550.