lunes, 12 noviembre, 2018
Fuga
Av. Almte Miguel Grau 701, Barranco, Lima, Peru,
Lima,
Perú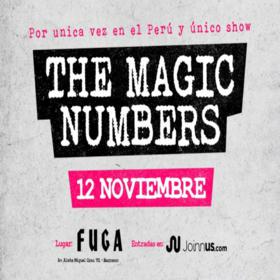 The Magic Numbers en Perú
The Magic Numbers se presenta en Lima el próximo 12 de noviembre en Fuga.
La banda inglesa de rock alternativo e indie rock The Magic Numbers, conformada por la pareja de hermanos Stodart (Romeo y Michele) y Gannon (Ángela y Sean), se presentó nuevamente en México y servirá para promocionar su más reciente disco, "Outsiders".
Las entradas se encuentran disponibles a través del sistema Joinnus:
pre venta – S/ 129.00
general – S/ 149.00