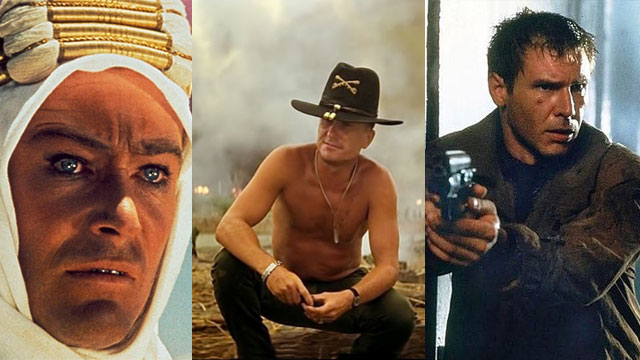 En celebración de su primer centenario de vida, la American Society of Cinematographers (ASC) confeccionó un listado con las 100 películas mejor filmadas del Siglo XX.
A través de una votación en la que participaron cada uno de sus más de 300 miembros, esta organización educativa, cultural y profesional conformada por directores de fotografía y expertos en efectos especiales con créditos de renombre en la industria del cine catalogó a Lawrence of Arabia, la cinta de David Lean de 1962, como la mejor filmada de todo el siglo pasado.
Un peldaño más abajo se ubicaron Blade Runner (1982), de Ridley Scott, y Apocalypse Now (1979), de Francis Ford Coppola, para completar los puestos dos y tres, respectivamente, del podio.
El top ten lo cerraron Citizen Kane (1941), de Orson Welles; The Godfather (1972), de Francis Ford Coppola; Raging Bull (1980), de Martin Scorsese; The Conformist (1970), de Bernardo Bertolucci; Days of Heaven (1978), de Terrence Malick; 2001: A Space Odyssey (1968), de Stanley Kubrick, y The French Connection (1971), de William Friedkin.
Por otro lado, pese a que los primeros diez largometrajes no fueron elegidos en orden según la década en la que se estrenaron, esto sí sucede con los noventa restantes por lo que los últimos lugares están ocupados por películas lanzadas a finales de los noventa o principios del 2000.
A continuación, el listado completo:
Metropolis (1927)
Napoleon (1927)
Sunrise (1927)
Gone with the Wind (1939)
The Wizard of Oz (1939)
The Grapes of Wrath (1940)
Citizen Kane (1941)
How Green Was my Valley (1941)
Casablanca (1942)
The Magnificent Ambersons (1942)
Black Narcissus (1947)
The Bicycle Thief (1948)
The Red Shoes (1948)
The Third Man (1949)
Rashomon (1950)
Sunset Boulevard (1950)
On the Waterfront (1954)
Seven Samurai (1954)
The Night of the Hunter (1955)
The Searchers (1956)
The Bridge on the River Kwai (1957)
Touch of Evil (1958)
Vertigo (1958)
Breathless (1960)
Last Year at Marienbad (1961)
Lawrence of Arabia (1962)
8 1/2 (1963)
Hud (1963)
Dr. Strangelove or: How I Learned to Stop Worrying and Love the Bomb (1964)
I Am Cuba (Soy Cuba) (1964)
Doctor Zhivago (1965)
The Battle of Algiers (1966)
Who's Afraid of Virginia Woolf? (1966)
Cool Hand Luke (1967)
The Graduate (1967)
In Cold Blood (1967)
2001: A Space Odyssey (1968)
Once Upon a Time in the West (1968)
Butch Cassidy and the Sundance Kid (1969)
The Wild Bunch (1969)
The Conformist (1970)
A Clockwork Orange (1971)
The French Connection (1971)
Klute (1971)
The Last Picture Show (1971)
McCabe and Mrs. Miller (1971)
Cabaret (1972)
The Godfather (1972)
Last Tango in Paris (1972)
The Exorcist (1973)
Chinatown (1974)
The Godfather Part II (1974)
Barry Lyndon (1975)
One Flew Over the Cuckoo's Next (1975)
All the President's Men (1976)
Bound for Glory (1976)
Taxi Driver (1976)
Close Encounters of the Third Kind (1977)
The Duellists (1977)
Days of Heaven (1978)
The Deer Hunter (1978)
Alien (1979)
All That Jazz (1979)
Apocalypse Now (1979)
Being There (1979)
The Black Stallion (1979)
Manhattan (1979)
Raging Bull (1980)
The Shining (1980)
Chariots of Fire (1981)
Das Boot (1981)
Reds (1981)
Blade Runner (1982)
Fanny and Alexander (1982)
The Right Stuff (1983)
Amadeus (1984)
The Natural (1984)
Paris, Texas (1984)
Brazil (1985)
The Mission (1986)
Empire of the Sun (1987)
The Last Emperor (1987)
Wings of Desire (1987)
Mississippi Burning (1988)
JFK (1991)
Raise the Red Lantern (1991)
Unforgiven (1992)
Baraka (1992)
Schindler's List (1993)
Searching for Bobby Fischer (1993)
Trois Couleurs: Bleu (1993)
The Shawshank Redemption (1994)
Se7en (1995)
The English Patient (1996)
L.A. Confidential (1997)
Saving Private Ryan (1998)
The Thin Red Line (1998)
American Beauty (1999)
The Matrix (1999)
In the Mood for Love (2000)