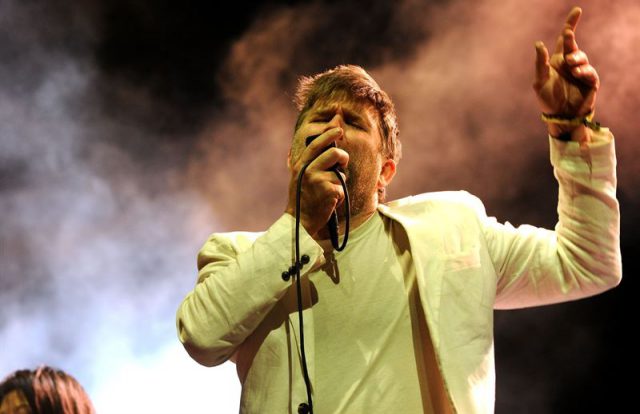 Este fin de semana se está desarrollando una nueva edición del festival Coachella en Indio, California, y aunque lo podés seguir en vivo mediante streaming, acá repasaremos los mejores videos que nos dejó este primer fin de semana del festival. Los headliners son LCD Soundsystem (que versionaron «November Rain» de los Guns N'Roses), Guns N' Roses y Calvin Harris pero por supuesto que no fue lo único que sucedió.
LCD Soundsystem
En su set regreso versionaron «Heroes» de David Bowie y «November Rain» de los Guns N' Roses.
LCD soundsystem covering «Heroes» was perfect. pic.twitter.com/14j8h8HiYR

— Ryan Mac (@RMac18) 16 de abril de 2016
Jack Ü
La dupla de Skrillex y Diplo tuvieron muchos invitados en el escenario: entre ellos Kanye West.
Sufjan Stevens
El cantautor sigue presentando su excelente disco Carrie & Lowell (2015, Asthmatic Kitty) y no solo que destruyó un banjo, sino también tocó envuelto en globos:
M83
Run the Jewels
Fueron presentados por Bernie Sanders y entre otros invitados estuvieron Nas y Gary Clark Jr.:
N.W.A.
El legendario grupo de raperos se reunió, tal como lo especulaban los rumores. Ocurrió en el set de Ice Cube.
Guns N' Roses
La reunión de los Guns N' Roses tuvo de invitado a Angus Young para hacer «Whole Lotta Rosie» y «Riff Raff», además de confirmar que Axl Rose es el nuevo frontman de AC/DC.
Grimes
En su set, en el que recorrió canciones de Art Angels y Visions, Grimes invitó a Janelle Monáe para hacer juntas «Venus Fly«. También expresó su apoyó a Bernie Sanders. Se puede ver el set completo:
Yeethoven
Como te adelantamos, una de las perlitas del festival era Yeethoven, una orquesta interpretando canciones de Kanye West.
Disclosure
En su set, los hermanos ingleses invitaron a Lorde para «Magnets«, Sam Smith para «Latch» y «Omen«, AlunaGeorge para «White Noise«, Kwabs, y Brendan Reilly.
Another short video of Disclosure with Lorde tonight at Coachella singing Magnets.
04/16/2016 pic.twitter.com/NanRC6h0If

— Lorde WorldWide Net (@Lorde_WWN) 17 de abril de 2016
"SHOUT OUT" to COACHELLA!! from Lorde during special guest appearance w/ @disclosure / Magnets pic.twitter.com/Z4XwWUS5Up

— Lorde WorldWide Net (@Lorde_WWN) 17 de abril de 2016
Disclosure Latch-ing with the excellent Sam Smith #coachella #collegelife pic.twitter.com/sjkz6Ea1bc

— Tradepal LA (@TradepalLA) 17 de abril de 2016
Esta noche en @coachella, @disclosure tuvo invitados sorpresa como Lorde y Sam Smith???? #Coachella2016 pic.twitter.com/s6ycAU7eKw

— Indie Rocks! (@indierocks) 17 de abril de 2016
???? But now I see your tears as an OMEN…???? @disclosure @samsmithworld #Coachella2016 https://t.co/FTG06ied4z pic.twitter.com/EJKMOKXeqA

— disclosure official (@Disclosure_Pics) 17 de abril de 2016
Courtney Barnett
La australiana sigue presentando su excelente álbum Sometimes I Sit and Think, and Sometimes I Just Sit (2015, Mom & Pop / Marathon Artists / Milk!) pero también hizo lugar para su más reciente single «Three Packs a Day":
Bat For Lashes
Además de los mejores temas de The Haunted Man (2012, Parlophone), la inglesa presentó nuevas canciones a incluirse en su próximo disco The Bride: «In God's House» y «I Do«.
Calvin Harris
Era un rumor fuerte… y cierto: Rihanna apareció en el show de Calvin Harris para cantar juntos su hit de 2011 «We Found Love«.
Rihanna cantando We Found Love en Coachella esta noche https://t.co/8nO9ziZAe4

— Fire Bomb (@LeitoxAvila) 18 de abril de 2016
Death Grips
Otro regreso fue el de Death Grips: era la primera vez que se presentaban en el festival después de su «separación» de 2014 y la primera en cuatro años en Coachella. Celebraron toda su discografía.