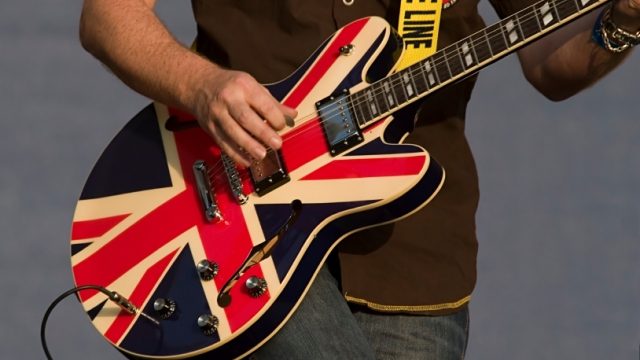 El último sondeo del Official Albums Charts dejó al descubierto el disco más vendido de toda la historia de Gran Bretaña.
Se trata del Greatest Hits de Queen: la producción editada en 1981 cuenta con más de 6.000.000 de ventas solo en la isla, estuvo cuatro semanas en el puesto número uno de los Top 40 y permaneció 158 semanas en el ranking.
Este álbum tuvo una reedición en 2011 y cuenta con perlas como "Bohemian Rhapsody", "Another One Bites the Dust", "Crazy Little Thing Called Love", "Don't Stop Me Now", "Somebody to Love" y otras glorias en la voz del recordado Freddie Mercury.
El conteo sigue y en el número dos tenemos a otro "Greatest Hits", el Abba Gold (1992) de la banda sueca más bailada de la historia con 5,2 millones de discos. Recién en tercer lugar llegan los legendarios Beatles con su Sgt Pepper's Lonely Hearts Club Band con 5,1 millones de placas. Le siguen Adele con 21 y Oasis con (What's the Story) Morning Glory?. Otros artistas que destacaron la lista de los más vendidos son Michael Jackson, Pink Floyd, Dire Straits, Robbie Williams (quien resulta el músico con más apariciones en la lista como solista y con Take That), Madonna, Amy Winehouse, Bob Marley, the Verve y Meat Loaf.
1 – GREATEST HITS – QUEEN (1981)
2 – GOLD GREATEST HITS – ABBA (1992)
3 – SGT PEPPER'S LONELY HEARTS CLUB BAND – BEATLES (1967)
4 – 21 – ADELE (2011)
5 – WHAT'S THE STORY MORNING GLORY – OASIS (1995)
6 – THRILLER – MICHAEL JACKSON (1982)
7 – THE DARK SIDE OF THE MOON – PINK FLOYD (1973)
8 – BROTHERS IN ARMS – DIRE STRAITS (1985)
9 – BAD – MICHAEL JACKSON (1987)
10 – GREATEST HITS II – QUEEN (1991)
11 – RUMOURS – FLEETWOOD MAC (1977)
12 – THE IMMACULATE COLLECTION – MADONNA (1990)
13 – BACK TO BLACK – AMY WINEHOUSE (2006)
14 – STARS – SIMPLY RED (1991)
15 – COME ON OVER – SHANIA TWAIN (1997)
16 – LEGEND – BOB MARLEY & THE WAILERS (1984)
17 – BACK TO BEDLAM – JAMES BLUNT (2004)
18 – URBAN HYMNS – VERVE (1997)
19 – BAT OUT OF HELL – MEAT LOAF (1977)
20 – 1 – BEATLES (2000)