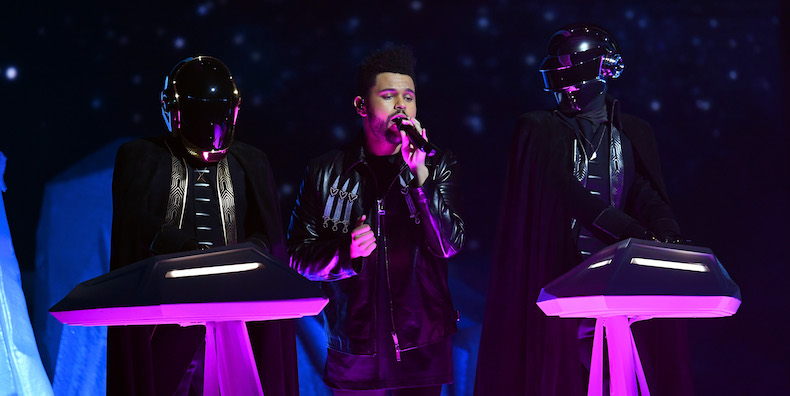 Este domingo a la noche tuvo lugar la ceremonia de los 59º Premios Grammy en el Staples Center de Los Ángeles, conducida por James Corden.
Luego del inicio de Adele interpretando «Hello» en vivo, otro punto alto de la noche fue la de The Weeknd, quien tocó «Starboy» y «I Feel It Coming» junto a Daft Punk, en lo que fue la primera presentación en vivo de la dupla francesa después de los Grammy de 2014 (no salieron de gira con su disco Random Access Memories).
Reviví todas las presentaciones a continuación.
Consultá los ganadores en esta publicación.
The Weeknd y Daft Punk
Daft Punk are back! from Sue B on Vimeo.
Adele
https://www.youtube.com/watch?v=s0QxpQzuv-Y
Beyoncé
«Your mother is a woman and women like her cannot be contained» @beyonce #GRAMMYs pic.twitter.com/I7ua3Xo9QO

— Cosmopolitan (@Cosmopolitan) February 13, 2017
She is giving it to them! #GRAMMYS #Beyonce ? pic.twitter.com/9ZKGSGuDIh

— NailsbySparkleNicole (@NailsbySparkle) February 13, 2017
Only way to go is up ??@beyonce #GRAMMYs pic.twitter.com/aAKI33Wje3

— Cosmopolitan (@Cosmopolitan) February 13, 2017
.@Beyonce is literally magic #GRAMMYs pic.twitter.com/8Rjy8mH5jl

— What's Trending (@WhatsTrending) February 13, 2017
.@beyonce holding her bump on the #GRAMMYs stage ???? pic.twitter.com/x21sNGtfZY

— Cosmopolitan (@Cosmopolitan) February 13, 2017
Katy Perry
RT if you're obsessed with @katyperry's new song 💖 #GRAMMYs pic.twitter.com/XqPdV8cGEP

— Cosmopolitan (@Cosmopolitan) February 13, 2017
.@katyperry's #GRAMMYs performance pic.twitter.com/XvfildXr6w

— Cosmopolitan (@Cosmopolitan) February 13, 2017
.@katyperry ended her performance with a powerful display of the US Constitution! #GRAMMYs pic.twitter.com/LGMsDVGdKI

— What's Trending (@WhatsTrending) February 13, 2017
Katy Perry gets political for her #GRAMMYs performance pic.twitter.com/xqxI42EPU9

— Mashable (@mashable) February 13, 2017
Tributo a George Michael
Restart…..totally worth it! @Adele did this right for @GeorgeMichael ! #GRAMMYs pic.twitter.com/COgOG4Gsfy

— Rick Daniels (@OnAirWithRick) February 13, 2017
Adele restarting her tribute performance to George Michael on live TV #Grammys pic.twitter.com/QgMvOhBCDQ

— Tatiana King Jones (@TatianaKing) February 13, 2017
Lady Gaga y Metallica
Metallica's mic goes out during #GRAMMYs performance https://t.co/ruIyRemXev pic.twitter.com/t0MaWgtPRl

— Hollywood Reporter (@THR) February 13, 2017
A Tribe Called Quest y Anderson .Paak
A Tribe Called Quest, Busta Rhymes and Anderson .Paak deliver politically charged performance at the #GRAMMYs https://t.co/NrDeSEvovh pic.twitter.com/hsEUCKRwF8

— Hollywood Reporter (@THR) February 13, 2017
Tribe called quest awesome performance»power 2 the people»! pic.twitter.com/TQMd9N3mTa

— KLA$$EN (@ruckus_4_life) February 13, 2017
Hip-hop legends A Tribe Called Quest bring the ??? and get political at the #GRAMMYs pic.twitter.com/fFEfJSnFYT

— Mashable (@mashable) February 13, 2017
Tributo a Prince: Bruno Mars, Morris Day
#TheTime opens up for the @prince #Grammys Tribute! pic.twitter.com/KLL9sZTdh6

— Rick Daniels (@OnAirWithRick) February 13, 2017
This right now!!! Yessssssss! @BrunoMars #Prince tribute #Grammys #GrammysOn2 pic.twitter.com/ZBKyzTx2Us

— WFMY News 2 (@WFMY) February 13, 2017
Turno para recordar a Prince. @GRAMMYPro pic.twitter.com/CfR4O66tLu

— Hernán Orjuela B. (@hernanorjuela) February 13, 2017
Bruno Mars pulling off a better-than-passable @prince impersonation. #GRAMMYs pic.twitter.com/n87Q4j9dam

— Lance Ulanoff (@LanceUlanoff) February 13, 2017
He's channeling in that Prince energy yesssssss pic.twitter.com/dCNjJFGl7w

— SJ (@shanicjack) February 13, 2017
Chance the Rapper
.@chancetherapper is a national treasure. #GRAMMYs pic.twitter.com/pV1cETpGUv

— Mashable (@mashable) 13 de febrero de 2017
.@chancetherapper took our asses to church tonight!!! #GRAMMYs pic.twitter.com/ys7CQ71ITx

— B E A N Z (@PhotosByBeanz) February 13, 2017
???????????????????????? @chancetherapper pic.twitter.com/A3oSi9WlIn

— Cute Lightskin? (@TrystenVincent) February 13, 2017
[email protected] @kirkfranklin @chancetherapper #GRAMMYs pic.twitter.com/ggv0RDIimf

— Joy105.com (@Joy105com) February 13, 2017